return to list
🤓 Senior International Tech Recruiter
Undisclosed salary
🌍 Docplanner Tech | Kolejowa 5/7, Warszawa
🖥 https://docplanner.tech/
#international, #tech, #recruter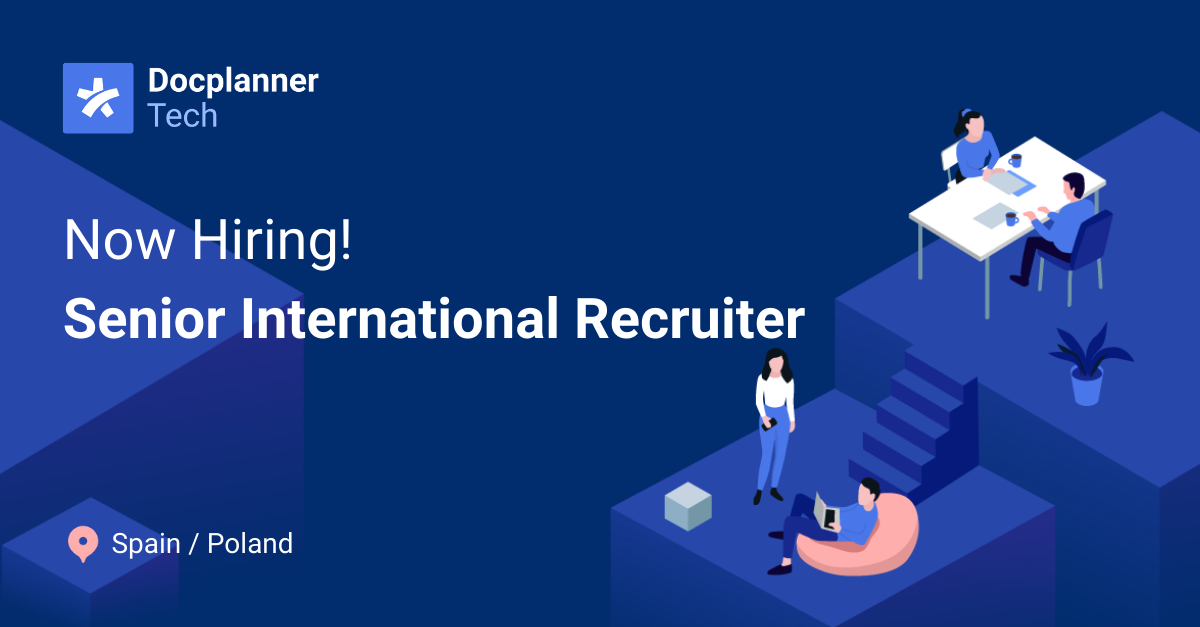 Hi there! We are the People Experience team supporting Docplanner Tech (the superheroes building Doctoralia/ZnanyLekarz). There are 9 of us in Warsaw and Barcelona and currently, we are looking for a Senior International TECH Recruiter to help us attract and hire the best talents to our global team. You wonder - what's it like to work with the Docplanner Tech team?

The challenge is as enormous as the scale and style of the whole DocPlanner undertaking - we are the world's leading marketplace for doctors and patients, enabling booking and management of doctor's offices (SaaS model). We are a leader in 11 countries, creating a tool for over 100k active doctors. What is more, 61.9 mln unique patients are visiting our website each month. We have 7 offices around the world and our team consists of over 1500 people

For us mission is possible. We change the unchangeable healthcare experience for millions of patients and their doctors around the world. With fierce passion, absorbing inspiration and radiating ideas.

We are entrepreneurs. We define goals, have autonomy and space to experiment. We are not afraid to fail. We believe in feedback and honesty delivered kindly.

We love what we do. Together.

This is the EVP (Employee Value Proposition) we created with our Tech team. And we assure it's 100% true :)

We focus a lot on the quality of recruitment (and we are data freaks!) so we couldn't help but to attach some numbers:


Our Candidate Experience score is 8.7 out of 10 (and over 520 candidates evaluated our recruitment process)
Our Onboarding score is over 8.6 out of 10 (evaluated by new hires after their trial period)
The turnover rate is just over 10%, Officevibe Engagement score is 8.3 (out of 10) and over 46% of people on board are with us for over 2 years, some of them even over 7 years (people enjoy working in Docplanner Tech!)
What would you be doing with us?

100% of your job will be about hiring and onboarding great people.

A few of your goals:
Attracting the best people to our Tech teams in Spain and Poland (IT, Product, Data) from various sources (we have over 9 Employer Branding channels),
Looking for the best recruitment solutions, thinking outside the box about what we can do better and more to attach new tech talents,
Constantly raising the bar for the Candidate Experience and sharing best practices with the team,
Leading onboardings and making the new members feel at home from the very first day.