return to list
🤓 Head of People
Undisclosed salary
🌍 Netguru S.A. | ul. Małe Garbary 9, Poznań
🖥 http://netguru.com
#headofpeople
Hi! We are Netguru. We help entrepreneurs and innovators shape the world through
beautiful software
. Our culture, built by, with, and for amazing people, has always been based on trust, taking ownership, and transparency.
Currently, we're looking for an experienced people manager ready to take on the challenge of Netguru becoming one of the world's top IT employers.

Introducing innovative solutions and improving our internal processes are the foundation for our development and achievements. We offer a safe, inclusive, and productive environment for all team members. We respect and want to build on
our diversity
. We are open to workplace adaptations. We also help team members develop their skills through
internal learning opportunities
, R&D projects, and personal growth budgets. Our efforts bring results: Netguru ranks as
one of the most desired IT employers
, alongside Facebook, Netflix, and S
pace
X.
If you share
our values
, have the knowledge and experience to shape our HR strategy and, at the same time, you are an extraordinary leader, then the role of Head of People at Netguru is a perfect fit for you.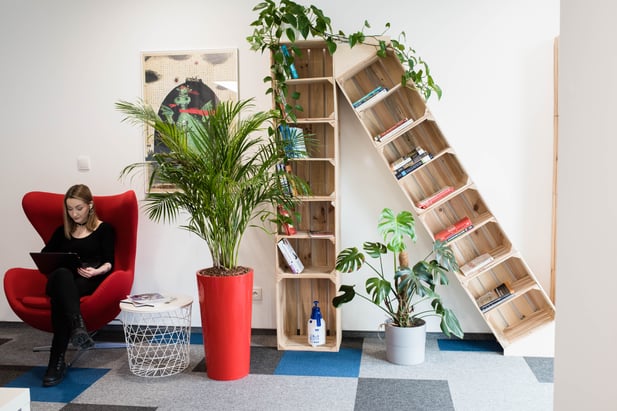 What's in it for you?
Taking full ownership of the HR strategy in a globally recognisable Polish IT brand,
Joining a fast-growing and ambitious organisation build upon a strong, inclusive, transparent, and socially responsible culture,
Becoming a partner for your team – empowering and growing a team of more than 20 experienced and talented professionals,
Joining Netguru's Top Management and working directly with the CEO.

How do we see your role day-to-day?
Building and executing an HR strategy focused on attracting, developing and retaining top talent and adjusting it to the reality/business conditions, organisational vision, and business goals,
Cooperating closely with the Top Management and co-creating the company strategy & plans,
Ensuring high levels of employee satisfaction,
Leading, developing, and growing the People team,
Motivating and providing leadership and guidance to your managers and leaders, being their trusted advisor,
Continuously improving existing processes and creating new ones in order to help Netguru execute its business strategy and achieve its objectives.

We are looking for a person who:
has at least two years of experience in building and managing high-performing HR teams in a dynamically growing company of at least 300 employees,
has created and implemented HR strategies complementing organisational vision and business goals in direct cooperation with top management,
has implemented new processes and optimised existing ones,
has a strong eye for business and the ability to translate business strategy into HR initiatives,
thrives in a fast-paced and dynamically evolving working environment,
has excellent communication and crisis-management skills and the ability to use situationally appropriate communication techniques including collaborating, influence, information sharing, and negotiating on complex topics,
is keenly interested in the HR industry and keeps up-to-date with the latest HR trends,
has a very good command of written and spoken English (at least CEFR C1).

Perks and benefits:
Competitive salary, starting from PLN 26k net + VAT on a B2B contract or from PLN 22k gross on a job contract + bonus
Stock options plan allowing you to become Netguru's shareholder
A development budget for you and your team
A health insurance package
Car rental service with attractive conditions
Flexible hours and remote work
A MultiSport Plus card
Optional life insurance for you and your family.

What does the recruitment process look like?
Application
An Email from our recruitment team if your application matches our requirements
Call with the recruiter
Language check
Interview with People Team Managers
Final stage - meetings with the Core Team